Featured Stories
DAY PROGRAM
JIMMY
The Arc recently implemented an art program into our Adult Day Services, under the supervision of Natalie, who is studying for a graduate degree in Arts and Medicine. Weekly, Natalie travels to several of The Arc's 7 Adult Day Program campuses to provide classes for Arc individuals who express an interest in art. When asked for a story to share the success of her program, she immediately thought of Jimmy. Jimmy is known around the Arc for his infectious, outgoing personality and his uncanny memory of people's names. Unfortunately, when he becomes frustrated he has also been known to express his feelings through aggressive behaviors. He often has trouble staying on task and participating in projects and events without disruption. The new art program changed all that for him. When it's his turn to go to art class, he has all the time, patience and focus in the world says Natalie. He stays on task and will work diligently and quietly for as long as he can stay in the art room. Natalie says his love for art shines on his face every minute he is creating. He lights up when he sees her enter his building. He shows off his projects like precious artifacts and proudly presents gifts of his artwork to his friends and staff. Each one of us probably has one talent, hobby or activity that makes us feel fulfilled and happy. Through The Arc's Day Program and art program, Jimmy has been able to find him, and his maladaptive behaviors have decreased and his overall sense of well being has improved.
---
RESIDENTIAL
KALEB
Kaleb was taken from an unstable home into DHR custody as a pre-teen. He bounced from foster home to foster home, separated from his 4 siblings, as each new foster family found themselves unequipped or unwilling to deal with the symptoms of his intellectual disability. When foster options ran out, he was placed in an acute care psychiatric hospital with a maximum stay of 120 days. Lost in the system, Kaleb stayed 3 years in a facility surrounded by barbed wire because he had not been placed with a service provider appropriate for supporting individuals with Intellectual or Developmental Disabilities, a diagnosis drastically different than that of Mental Illness. He was allowed to go outside once a week if he was lucky, and was never allowed off campus. A visiting psychiatrist took interest in Kaleb, recognizing the dire need to remove him from the facility and became his personal advocate. She was able to connect with The Arc and our newly developed Adolescent Residential Unit. Along with other staff, Arc Residential Director Leo went into action making a home for Kaleb. A house was quickly purchased, furnished and staffed. Leo spent hours creating an environment in which Kaleb would feel comfortable. His room was decked out in the colors and logo of his favorite team, the Alabama Crimson Tide. She heard about his love for watches and had one waiting for him on his dresser when he arrived. Leo says as a result of his circumstances when she first met Kaleb he seemed to be in "survival mode", with a tough guy attitude, ready to battle anyone who crossed his path. As he transitioned from an incredibly restrictive environment to one of loving guidance, support and respect, Kaleb's personality transformed into a "real, lovable young man who wants the people in his life to be proud of him". Kaleb regards his house manager Mr. Alfred as a father. He and his roommate Ethan are learning important life skills at home like cooking, laundry, and cleaning to support increased independence, but also have time for the X-Box games they love like most typical teenage boys. He is now part of the Jefferson County school system, as well as The Arc's summer camp program at the YMCA, and is playing basketball, swimming and making friends every day.
---
EMPLOYMENT
KIMLA
A few years ago, The Arc received funding to turn the commercial kitchen at our main campus into a full-time training kitchen, aptly named The Ability Baking Company. Classes from all 7-day programs visit the kitchen several times a month to practice skills like measuring, mixing, kitchen hygiene, serving and more. Through the classes, Baking Instructor Jill was able to identify several individuals who had an extra special passion for spending time in the kitchen, and an interest in developing their skills further. The Snack Shack was born, and Kimla, Terry, and Reginald were hired as part-time staff. Wearing an Ability Baking Company uniform, every Tuesday and Thursday they work to help Jill prepare the special of the day (we've had funnel cake day, nacho day, snow cone day and more!). Snack Shack employees package the food, take orders, use a cash register, make change and serve. Terry likes being known as "the money man". He takes money and makes change for every order without a calculator, even up to $100 bills and has never been prouder. Reginald says his favorite thing about working in the kitchen is feeling helpful. To Kimla, the best part of her work is making people happy by serving them what they want. They work as a team, each knowing which part of the operation they are responsible for, and how they work together.
---
WELLNESS
FRANKIE
Frankie, both a resident and Day Program attendee at The Arc, has been in declining health for the past year. Several hospitalizations for various health issues led to Frankie developing several pressure ulcers on his left leg, left hip, left and right heels and fifth toe of his left foot. Subsequently, Frankie became less active and lost his ability to walk and move independently. Treatment for care at home was ordered by his doctors and thankfully was able to be provided by an Arc nurse. At one point Frankie was re-admitted into the hospital with a diagnosis of cellulitis of his left fifth toe. His doctor recommended amputation of the toe to prevent the spread of infection throughout his body. This was not an option that his family wanted to consider. Respecting the decision that his family made, Frankie's doctor wrote additional wound care orders specifically for the toe on his left foot which an Arc nurse carried out daily. Arc staff ensured that scheduled follow up appointments with his wound care doctor were kept over the course of three months. Frankie's ulcers, as well as the area on his left foot, gradually healed over time with good nutrition, staff repositioning him at least every two hours, and with frequent, consistent wound care provided by the Arc nurse as ordered by his doctor. All of Frankie's wounds healed, amputation of a toe was avoided, he continues to be clear of wounds, and he has even been able to resume physical therapy. The Arc's Wellness Program played a significant a part in his healing process and in helping him have a brighter future to look forward to.
---
Erin's Story:
"When Erin's enthused about something, her hands fly up in the air. And Erin is often enthused. She lives in one of our homes and participates in one of The Arc's Day Programs, where she practices her sorting and counting skills as part of her pre-vocational training.
Good-natured and friendly, she loves to go to the mall and movies with staff and friends.
She enjoys going to church with her house staff manager, where she is welcomed with open arms by the other church members. She recently cut her long, dark hair to donate to Locks of Love and is proud it will be made into a wig for someone who has lost their hair due to cancer treatments."
---
From the perspective of Dr. Henna Budhwani, parent, Assistant Professor at UAB, and Deputy Director of its Sparkman Center for Global Health:
"Our twin sons were born prematurely and developed feeding issues. They also began to lag behind in speech development. Our pediatrician suggested The Arc's early intervention program to us.
For almost a year and a half, a team of speech therapists, an occupational therapist, and a special instruction coordinator worked with the boys four times a month, giving my husband and me a plan of action to follow at home. It's made a huge difference.
We had tried other programs, but they were too clinical. The Arc's program is more intuitive, more positive. More effective. Our sons are now on track developmentally—and I am a complete advocate of The Arc's Early Intervention Program."
---
Glenn's Story:
"Glenn has a full life. He's been employed for three years at Zaxby's, where he washes dishes, sweeps up the restaurant, and keeps the parking lot clean five days a week.
He likes to bowl and play video games, loves macaroni & cheese and coleslaw.  He has two housemates in his Arc-run residence, and a girlfriend he met at a previous job through our day program.
And like any other group of friends, Glenn, his housemates, and their house staff take vacations, go to parties, and shop at the mall.
"I really love my job," Glenn says, "and they love me too!"
---
 From the perspective of William Wren, parent and former Arc of Jefferson County Board member:
"I don't know what we'd do without The Arc. Our daughter needs 24-hour care, help counting money, assistance riding the bus, reminders to groom herself. She's participated in The Arc's Day and Residential programs for almost 20 years, and visits with us on the weekends.
But she's much calmer when she's at her home with her housemates and the staff and their routines. My wife and I are in our sixties now, and it gives us incredible peace of mind to know that our daughter will be safely and kindly cared for by The Arc for the rest of her life."
---
 Josh's Story:
"It's Shred Day and a warm and windy Thursday.  Josh is welcoming members of the community who have come to support The Arc's RecyclABILITY Program at the Alice Pigman Campus. When prompted about the weather a big smile lights up Josh's face.
"I work inside at my other job, so I like to be outside when I can. Especially on a day like today when you don't have to worry about bugs!" says Josh.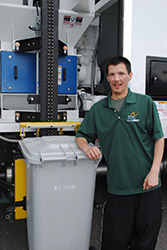 Josh began working with The Arc's RecyclABILITY Program in the summer of 2013 in addition to his job at The Arc's Tom Leonard Center assisting with janitorial duties. The program offers onsite, eco-friendly shredding for all confidential information.  Most importantly, this job allows Josh to be out in the community and to bring in his own income.
"I gotta tell ya.  I love making money," Josh laughs. "I go shopping with my dad and I like being able to buy what I want with my money!"
Josh has also participated in the Residential Program since he came to The Arc seven years ago. He likes to spend time around the house watching football, baseball, basketball, soccer and wrestling.  Quite the avid sports fan made obvious by the enthusiasm he exudes when the conversation shifts to sports, Josh states, "I plan on going to some baseball and football games when I save up some of my paycheck!"
According to Larry, Josh's dad and a member of the Arc of Jefferson County Board of Directors, "The RecyclABILITY Program is good for Josh in that it allows him to meet new people. Josh is in his comfort zone when he's talking and making new friends."
So while the RecyclABILITY program can keep your materials confidential and will leave a green footprint in the environment, it along with all The Arc's Employment Services also allows individuals like Josh to become more independent, viable members of the community in which they live."
---