Volunteer Corps
Volunteer Spotlight: Cassidy Bonner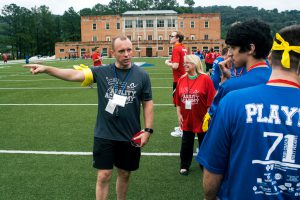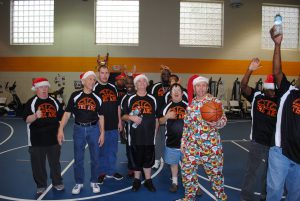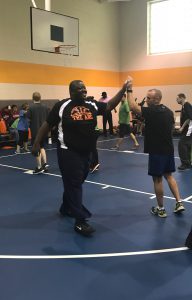 Cassidy Bonner has been a superstar volunteer giving his all to support individuals with I/DD at The Arc since 2016. He jumped into our fitness program as our first ever basketball coach, and hasn't stopped since.
It all started with a simple flyer on a bulletin board at Cassidy's YMCA, advertising the "I Can Do It, You Can Do It" program.  ICDI/YCDI partners community members with people served by The Arc for eight weeks. The community mentor assists the person served in setting personal goals for health, nutrition and fitness, and meets with them weekly for accountability, encouragement and support in reaching those goals.
Cassidy is passionate about both fitness and working with adults with disabilities, so it was a perfect match for him. He says he loves working with people served by The Arc and encouraging them to live a healthier lifestyle. He's also thankful for the support his Arc buddies showed him after his shoulder and knee surgeries!
Since that eight-week introduction to The Arc family, Cassidy has become an indispensable asset to our fitness program. Over the past 21 months he has become a fixture in the gym, assisting with weekly classes, and was a major part of the establishment of The Arc's first basketball team.  Under his leadership and guidance, our team has grown in less than two years from a group of men and women who had never stepped foot on a basketball court or participated in a team sport, to a well-known team in the league with three wins so far this season!
Cassidy regularly participates in other Arc programs like the Beautiful Game Soccer Camp, Wings for Autism and Ability Academy Football Camp, as well as escorting people served by The Arc to volunteer at the National Senior Games this year. He even "attempted" to wrap gifts for our Angel Tree program! In addition to volunteering with The Arc, Cassidy donates his time and talents to The Salvation Army, Red Mountain Park, Hands on Birmingham, Special Olympics, Alabama Public Television, the Boutwell Warming Station and United Ability.
The Arc is so lucky Cassidy chooses to spend some of his valuable time with us, serving people with Intellectual and Developmental Disabilities. He is passionate, committed and the best mentor the people we serve could ask for. Thank you for all you do Cassidy!
Become A Volunteer!
Due to an ever growing number of volunteers that are passionate about and interested in the mission of The Arc, we have created a new opportunity to serve through donation of your time and talents.  The Volunteer Corps will be a database of friends of The Arc who are willing to step in whenever help is needed in an area or areas of interest to you.  Whether it be consumer holiday parties, helping with baking classes in the training kitchen, painting or yard work through Adopt-a-Home, we've got a project for you!
For questions about the Volunteer Corp, please contact Ashton.Johnson@arcofcentralalabama.org