Early Intervention Program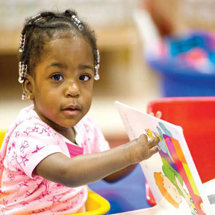 Early intervention services can make a significant difference in the development of infants and toddlers with delays or intellectual disabilities and their families' lives.  Speech, physical, and occupational therapists visit the child's home, preschool, or daycare to work with each child.  Social and psychological services are also provided, along with special instruction and guidelines for parents to work with their child between visits.
Last year 175 infants, toddlers, and young children were served through our Children's Services Program. That same year 11 children made such progress that they no longer qualified for or needed services.
This service is available to all families who require it and is not based on income level.  Families may self-refer, as well as children may be referred by pediatricians or by Child Find, Alabama's Early Intervention System through the Department of Rehabilitation Services.
Many of the parents of children involved in The Arc's Early Intervention Program have reported the efforts made by therapists have helped them even more than their children. Parents say they learn techniques and strategies to better communicate with their children and handle their needs more appropriately.
From the perspective of Dr. Henna Budhwani, parent, Assistant Professor at UAB, and Deputy Director of its Sparkman Center for Global Health:
"Our twin sons were born prematurely and developed feeding issues. They also began to lag behind in speech development. Our pediatrician suggested The Arc's early intervention program to us. For almost a year and a half, a team of speech therapists, an occupational therapist, and a special instruction coordinator worked with the boys four times a month, giving my husband and me a plan of action to follow at home. It's made a huge difference. We had tried other programs, but they were too clinical. The Arc's program is more intuitive, more positive. More effective. Our sons are now on track developmentally—and I am a complete advocate of The Arc's Early Intervention Program."
For more perspectives like Dr. Budhwani's, visit our Featured Stories section.
Arc of Jeffco – Early Intervention _No Last Name_110216 from Steak & Eggs Media on Vimeo.