Employment Services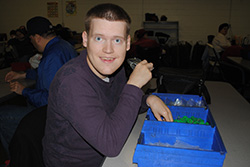 We offer a comprehensive variety of work and work preparation programs.  The work activity center helps adults learn pre-vocational skills, including counting, money management, safety and appropriate work-related behaviors.
Working for Local Businesses
The Arc partners with local businesses for employment opportunities for the individuals we serve.  A supported employment program provides training in completing job applications and learning interviewing skills, and helps place our trainees in jobs out in the community. On-going support assures long-term job retention and employee/employer satisfaction.
We trained 129 individuals to become and stay employed during the last fiscal year.
RecyclABILITY Program
In 2010 The Arc of Jefferson County launched its highly successful RecyclABILITY program as a part of the Employment Program after receiving an Innovative Ideas Grant from The Alabama Council for Developmental Disabilities and a generous grant from Wells Fargo.  These grants enabled us to buy a large specially-designed truck and implement a business providing affordable, eco-friendly paper shredding services on-site to Birmingham area companies.  We recently purchased a smaller truck to accommodate residential customers.
RecyclABILITY provides invaluable employment opportunities for 17 of our individuals served.
Glenn's Story:
"Glenn has a full life. He's been employed for three years at Zaxby's, where he washes dishes, sweeps up the restaurant, and keeps the parking lot clean five days a week.  He likes to bowl and play video games, loves macaroni & cheese and coleslaw.  He has two housemates in his Arc-run residence, and a girlfriend he met at a previous job through our day program.  And like any other group of friends, Glenn, his housemates, and their house staff take vacations, go to parties, and shop at the mall. "I really love my job, and they love me too!" Glenn says."
To read more stories like Glenn's, visit our Featured Stories section.