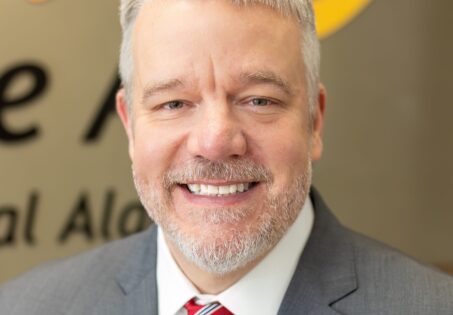 Chris B. Stewart, CPA, CGMA
President / CEO
Chris Stewart became President/Chief Executive Officer at The Arc of Central Alabama, formerly The Arc of Jefferson County, in April 2013, after serving as the organization's Chief Financial Officer since 1999. Stewart is responsible for oversight of more than 650 employees across 89 locations, who manage early intervention, adult day activity, community experience, employment, and residential programs for people with intellectual and developmental disabilities (IDD).
Stewart reports to The Arc of Central Alabama's Board of Directors, made up of more than twenty professionals who share a passion for the organization's mission. He has grown The Arc's relationships with federal and statewide entities, as well as monetary supporters like the United Way of Central Alabama and the Community Foundation of Greater Birmingham. Stewart increased fundraising efforts through creation of new events, expanding grant applications, and heavily increasing community awareness. Prior to his leadership, fundraising income was under $100,000 in any given year, and is now over $600,000 annually.
Stewart has also optimized strategic business operations. Over the last five years, he leveraged the organization's strength to assist other providers that could no longer sustain quality services under Alabama's insufficient reimbursement rates. Since becoming President/CEO, the number of people supported has increased by 22% and the organization's overall revenue has grown by 20%, without increasing the amount charged (72%) to the person-served for rent, room, and board.
In 2018, Stewart was named Explementary Mentor Award by The Arc's National Conference of Executives, earned The National Award for Distinguished Service in 2019, and the Executive Excellence Award in 2022. Governor Kay Ivey appointed him to serve on Alabama's Interagency Autism Coordinating Council in 2018 and he served as the chairman of the Autism Council's Finance Committee in 2019. The Birmingham Business Journal named him Executive of Influence in 2019 and Nonprofit CEO of the Year in 2020.
He is presently or has served on many federal, state, and local committees and boards in the following capacities:
The Arc of The U. S. Board of Directors (2021-2024)
The Arc of The U. S. Executive Committee (2021-2022)
The Arc of The U. S. Policies and Positions Committee (2021-2022)
The Arc of The U. S. Business and Finance Committee (2023 -Present)
Council on Qualify and Leadership 4-year Accreditation (2017-present)
Commission on Accreditation of Rehabilitation Facilities (2020-present)
Chair, NCE (2021-2022)
Past Chair, NCE (2023-2024)
Alabama DMH HCBS Stakeholder Taskforce (2022-2023)
Arc of The U.S. Long-term Strategic Planning Committee (2019-2020)
Member, Alabama Department of Mental Health DD Subcommittee (2015-2017) (2019-2020)
President, HARC III HUD Housing Authority (2014-present)
President, Cerebral Palsy Housing Foundation (2014-present)
Treasurer, Alabama Service Providers Association (2018-present)
President, Alabama Conference of Executives of The Arc (2016-2017) (2019-2020)
Co-Chair, NCE Summer Leadership Institute (2016-2020)
Co-Chair, NCE Professional Development Seminar (2016-2020)
Stewart has presented to the Alabama House of Representatives and Senate committees on the effects of pending and passed legislation on the IDD community.  He has also been called upon by The Center for Medicaid Services (CMS) and The Association for Community Living (ACL) to comment directly on Alabama's Medicaid Programming and Home and Community Based Transition Plan.
Stewart holds CPA and CGMA certifications and graduated from Troy University. Prior to his career at The Arc, he worked in banking and public accounting.  He resides in Birmingham with his wife and two children.