Saturday, February 16, 2019
5:00 pm - 8:30 pm
Birmingham-Shuttlesworth International Airport
5900 Messer Airport Highway

,

Birmingham

,

AL

35212

United States
About Wings for Autism

In partnership with the Alabama Council on Developmental Disabilities, Birmingham Shuttlesworth International Airport, Southwest, TSA, and HMS Host, The Arc of Central Alabama is proud to present Wings for Autism 2019. Wings for Autism is a nationwide program geared towards helping individuals with disabilities and their families acclimate to the flying experience. During this experience, families take a "test-run" at checking in, receiving a boarding pass, going through security, finding a gate, and loading a plane. Once on the plane, passengers will sit through real safety procedures and then will taxi around the airport. 

Register by using the link below. Check in will begin at 5:00 pm on February 16th. After the flight experience, the airport will host a small reception for participants and their family members.

For questions, please contact development@arcofcentralalabama.org.
Register a Participant
Registration Form
Please click this link to sign up! Available space will fill up quickly so don't wait too long!
Complete the registration form for all individuals who will be participating in the Wings for Autism event. Participants will be boarding the aircraft at around 6:30 pm, however, we will ask that you arrive at the airport at 5:00 pm to allow ample time to check-in and pass through security.
Due to limited space on the aircraft, only one family member may accompany the individual with a disability onto the aircraft. However, a total of two guests are welcome to attend the event along with the individual. We just ask that one guest remains at the gate when the individual and caregiver board the plane.
Please note that only persons over 18 years old will be allowed to accompany the participant with a disability.
If you have any questions or need assistance with completing this form, please contact development@arcofcentralalabama.org.
Practice Guide
Prepare for your Wings for Autism event
Download The Arc's Wings for Autism – Our Practice Trip to the Airport Guide PowerPoint
This guide is for you to use as you prepare for your Wings for Autism event. It details what you can expect to experience at the airport.
We encourage you to personalize this guide by adding your own photos and advice or deleting photos or advice you don't need. You can also use this guide to prepare for your next real trip.
Sponsors
PRESENTING SPONSOR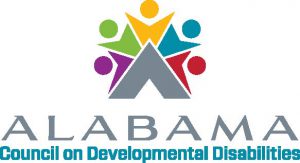 Click here to find out more about the Alabama Council on Developmental Disabilities.
Sponsoring Aircraft
Southwest Airlines
Venue Host
Birmingham-Shuttlesworth International Airport
MEAL SPONSOR
HMS Host