Erin's Story:
"When Erin's enthused about something, her hands fly up in the air. And Erin is often enthused. She lives in one of our homes and participates in one of The Arc's Day Programs, where she practices her sorting and counting skills as part of her pre-vocational training.
Good-natured and friendly, she loves to go to the mall and movies with staff and friends.
She enjoys going to church with her house staff manager, where she is welcomed with open arms by the other church members. She recently cut her long, dark hair to donate to Locks of Love and is proud it will be made into a wig for someone who has lost their hair due to cancer treatments."
---
From the perspective of Dr. Henna Budhwani, parent, Assistant Professor at UAB, and Deputy Director of its Sparkman Center for Global Health:
"Our twin sons were born prematurely and developed feeding issues. They also began to lag behind in speech development. Our pediatrician suggested The Arc's early intervention program to us.
For almost a year and a half, a team of speech therapists, an occupational therapist, and a special instruction coordinator worked with the boys four times a month, giving my husband and me a plan of action to follow at home. It's made a huge difference.
We had tried other programs, but they were too clinical. The Arc's program is more intuitive, more positive. More effective. Our sons are now on track developmentally—and I am a complete advocate of The Arc's Early Intervention Program."
---
Glenn's Story:
"Glenn has a full life. He's been employed for three years at Zaxby's, where he washes dishes, sweeps up the restaurant, and keeps the parking lot clean five days a week.
He likes to bowl and play video games, loves macaroni & cheese and coleslaw.  He has two housemates in his Arc-run residence, and a girlfriend he met at a previous job through our day program.
And like any other group of friends, Glenn, his housemates, and their house staff take vacations, go to parties, and shop at the mall.
"I really love my job," Glenn says, "and they love me too!"
---
From the perspective of William Wren, parent and former Arc of Jefferson County Board member:
"I don't know what we'd do without The Arc. Our daughter needs 24-hour care, help counting money, assistance riding the bus, reminders to groom herself. She's participated in The Arc's Day and Residential programs for almost 20 years, and visits with us on the weekends.
But she's much calmer when she's at her home with her housemates and the staff and their routines. My wife and I are in our sixties now, and it gives us incredible peace of mind to know that our daughter will be safely and kindly cared for by The Arc for the rest of her life."
---
 Josh's Story:
"It's Shred Day and a warm and windy Thursday.  Josh is welcoming members of the community who have come to support The Arc's RecyclABILITY Program at the Alice Pigman Campus. When prompted about the weather a big smile lights up Josh's face.
"I work inside at my other job, so I like to be outside when I can. Especially on a day like today when you don't have to worry about bugs!" says Josh.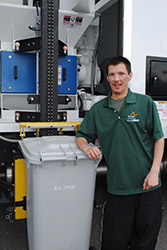 Josh began working with The Arc's RecyclABILITY Program in the summer of 2013 in addition to his job at The Arc's Tom Leonard Center assisting with janitorial duties. The program offers onsite, eco-friendly shredding for all confidential information.  Most importantly, this job allows Josh to be out in the community and to bring in his own income.
"I gotta tell ya.  I love making money," Josh laughs. "I go shopping with my dad and I like being able to buy what I want with my money!"
Josh has also participated in the Residential Program since he came to The Arc seven years ago. He likes to spend time around the house watching football, baseball, basketball, soccer and wrestling.  Quite the avid sports fan made obvious by the enthusiasm he exudes when the conversation shifts to sports, Josh states, "I plan on going to some baseball and football games when I save up some of my paycheck!"
According to Larry, Josh's dad and a member of the Arc of Jefferson County Board of Directors, "The RecyclABILITY Program is good for Josh in that it allows him to meet new people. Josh is in his comfort zone when he's talking and making new friends."
So while the RecyclABILITY program can keep your materials confidential and will leave a green footprint in the environment, it along with all The Arc's Employment Services also allows individuals like Josh to become more independent, viable members of the community in which they live."
---