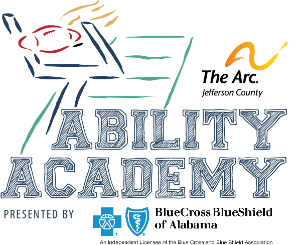 A football mini-camp  for people with intellectual disabilities presented by NFL star Matt McCants and The Arc of Jefferson County.
Football lovers of all ages who have an Intellectual/Developmental Disability will have a chance to participate in a day long mini-camp teaching football ability beyond their disability.  Participants will have the chance, perhaps for the first time, to raise their football IQ and become a part of the pastime of Saturdays in the South.  They will be exposed to fundamentals such as offense, defense, scoring and football terms.  Volunteer coaches from college teams and the NFL will work on skill basics such as stretching, passing, catching and running routes.
Registration begins at 8:30 am and the camp will go from 9:30 am until 12:00 pm. After a hearty lunch the camp will end at 1:00 pm. There are 200 slots available so sign up ASAP. Your registration fee includes the post-camp team lunch and a player t-shirt. We can't wait to see you there!
Ability Academy will be wheelchair accessible. Certified behavior support staff and Arc employees who have been trained to facilitate interactions with those with unique needs will be on hand, along with professional medical staff in case of emergency.
Your $20 Registration Fee Includes:
A morning of basic skills training and orientation to the game of football from the best in the business
Camp T-shirt
Post-Camp team lunch for participants +1 caregiver
Photo Opportunity with Professional Football Players
The chance for a one of a kind experience
To sign up offline, please print and return the Ability Academy Brochure  to: The Arc of Jefferson County, Attn. Mary Frances Colley, 6001 Crestwood Blvd., Birmingham, AL 35212. Checks can be made out to "The Arc of Jefferson County."