Make a Lasting Impact and Volunteer Today!
Volunteering is a fantastic way to learn more about our programs and be part of the amazing change that happens every day. Whether spending a few hours with us for a specific project or serving in a recurring long-term capacity, you will go home with a firsthand connection to the people we serve.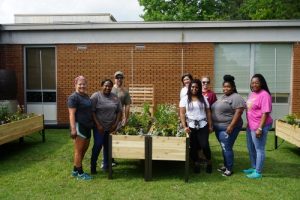 How to Become a Volunteer:
Choose an area of interest below.
Complete an online application.
Take part in a volunteer interview (recurring program volunteers only).
Complete applicable volunteer training and orientation.
Have fun and change lives with us!
*background checks may be applicable to some volunteer positions
Program Volunteers
Program Volunteers
Become a regular volunteer in an Arc program and change the lives of the people we serve. Anyone can do it! No professional skills required.
Adult Day Program:
Residential Program:
Provide a meal
Manicures
Gardening
Bible study
Event Volunteers
Event Volunteers
Work as a team with other like-minded people and bring your connections to the forefront by helping with one or more of our fundraising events!
Group Projects
Group Projects
Bring your coworkers, family, friends, church group, or club for a large-scale project and make an even larger impact!
Types of activities include:
Yard work
Painting
Clean up and Maintenance
Program activities, like Fitness & Art
Host a Wish List Drive
Angel Tree Gift Wrapping