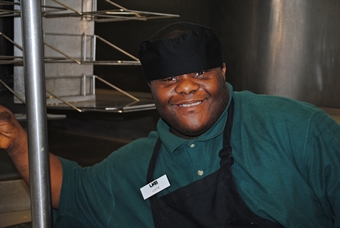 We offer a comprehensive variety of work and work preparation programs. The work activity center helps adults learn pre-vocational skills, including counting, money management, safety and appropriate work-related behaviors.
Working for Local Businesses
The Arc partners with local businesses for employment opportunities for the individuals we serve. A supported employment program provides training in completing job applications and learning interviewing skills, and helps place our trainees in jobs in our community. On-going support assures long-term job retention and employee/employer satisfaction.
RecyclABILITY Program
In 2010 The Arc of Central Alabama launched its highly successful RecyclABILITY program as a part of the Employment Program after receiving an Innovative Ideas Grant from The Alabama Council for Developmental Disabilities and a generous grant from Wells Fargo. These grants enabled us to buy a large specially-designed truck and implement a business providing affordable, eco-friendly paper shredding services on-site to Birmingham area companies. We recently purchased a smaller truck to accommodate residential customers.
RecyclABILITY provides invaluable employment opportunities for many of our individuals served.