Early Intervention services have been proven to make a significant difference in development of infants and toddlers who present developmental delays. Through The Arc's HOPE Program, service coordinators create plans tailored specifically to each child. Therapists and providers come into the child's home or natural setting to train family members and other care takers. As development progresses, plans of care are adjusted to accommodate changing abilities and preferences. This one-on-one support not only benefits the child's progression, but also enables family and other natural supports to be as helpful as possible in the process. Services are provided regardless of income level.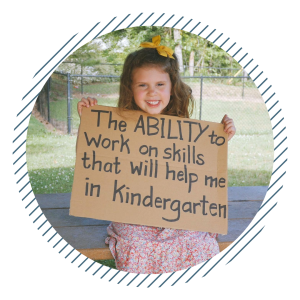 Services offered:
Based on the recommendations of HOPE staff, children receive a variety of early intervention therapies in their natural environment, including psychological services.  HOPE therapies can be arranged in-center, home-based, in daycare settings, or medical facilities, as needed. The most appropriate environment is determined by the HOPE staff based on individual needs of the child and family. Children may be seen individually or in small group therapy sessions for the following services:
Special instruction therapy
Speech and language therapy
Socio-emotional therapy
Occupational therapy
Physical therapy
Additional therapies as needed
Dr. Henna Budhwani, parent, Assistant Professor at UAB, Deputy Director of  Sparkman Center for Global Health: "Our twin sons were born prematurely and developed feeding issues. They also began to lag behind in speech development. Our pediatrician suggested The Arc's Early Intervention program to us. For almost a year and a half, a team of speech therapists, an occupational therapist, and a special instruction coordinator worked with the boys four times a month, giving my husband and me a plan of action to follow at home. It's made a huge difference. We had tried other programs, but they were too clinical. The Arc's program is more intuitive, more positive, more effective. Our sons are now on track developmentally—and I am a complete advocate of The Arc's Early Intervention Program."
Who can receive services? In Alabama, a child is eligible for Early Intervention (EI) services if they are under the age of three and has at least a 25% delay in any of the five major areas of development: physical, social, adaptive, cognitive, or communication skills. A child is also eligible if they have a diagnosis of a condition resulting in a developmental delay. 
How do I receive services? Children are typically referred to our EI program through their pediatrician. If your child has been diagnosed with a developmental delay, call Alabama EI Child Find: 1-800-543-3098. A representative will direct you to services available in your area.
Who will work with my child and family? Alabama's EI system provides eligible families with a service coordinator. This person will work with you and your child to develop an Individualized Family Service Plan (IFSP) to define your child's goals and obtain the services to meet those goals. You and the service provider will identify a team of professionals, family members, caregivers and other supports to assist in reaching the outcomes of your IFSP. Together, the team will make decisions about services and track progress. Your child's pediatrician and other involved medical professionals remain in close contact with the team to ensure your child is getting the best care and services for their developmental progress.
Enrollment Process:
Referral from medical professional

or parent referral through Child Find

Initial interview with EI Staf

f

Evaluation by EI professional

Collaboration on the

I

FSP