Secure Shredding Services
RecyclABILITY is a program of The Arc of Central Alabama. We are an NAID AAA certified shredding company. We'll come to your business or residence to destroy confidential documents safely, and the remnants are then recycled. By choosing to shred with RecyclABILITY, you are supporting disabled adults to gain employment.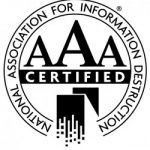 Use the tabs below to learn more about our services and request a quote. You can also contact RecyclABILITY at 205-423-6234 or at recyclability@arcofcentralalabama.org.
Our Services
Shredding Services in Central Alabama
Regular Service
We offer weekly, monthly, every other month, or at your request regular shredding services. The RecyclABILITY team comes to your business to destroy your documents on site. We provide the consoles that you keep in your office and look forward to seeing you based on a schedule you set. If you want us to come every Monday, we come every Monday. If you want us to come every other month on the third Thursday, we're there too.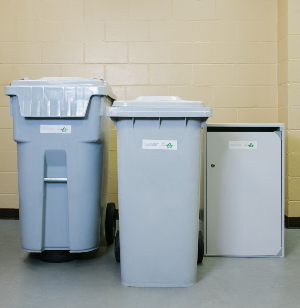 Purges
Cleaning out documents from your home or your business? Just collect your personal information in bags or boxes and we'll come to you to destroy them where you are. We even have shred bags you can purchase prior to your clean out if you'd rather place them there so we can pickup quickly.
Shred Events
Businesses and churches hire RecyclABILITY to come out and offer shredding to their customers during one select day/time for a set cost. It's a great way to offer this kind of service to your constituents while supporting a great cause.
FAQ
Frequently Asked Questions
What can I shred?
Any type of paper – like receipts, contracts, manuals and file folders. No need to remove paper clips or fasteners. We do ask that you get the documents out of binders, and we obviously can't shred bulky containers that aren't made of paper or cardboard.
How much does it cost?
Your shredding cost with us will vary and is dependent on how much you have to shred, how frequently you want us to come out, and if there's any intense labor involved (like going up and down the stairs to a basement several times). Just call or email us. We promise we offer competitive rates, because the opportunity to offer jobs to disabled adults in our community means more to us than making a big profit.
How do I know RecyclABILITY is secure?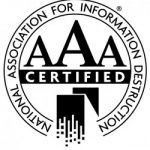 The RecyclABILITY program has received National Association of Information Destruction certification since its creation. That means the program is held to the highest standards in the document destruction arena. Drivers and any other support staff who help execute jobs undergo intense training and maintain procedures that are required by NAID. We take your personal information seriously, and ensure that it is destroyed in the safest and most confidential way.
Learn more about why you should partner with an NAID AAA Certified Member.
What happens once I decide I need monthly or regular service?
The RecyclABILITY team talks with you about what consoles/containers you need to hold the documents you want destroyed, and then we perform an "install" – where we bring those containers to you and get them set up. We also gather the information we need to know to carry out the job – like who our contact people are, which door you'd like us to come in, etc. Service begins shortly after the install is complete.
What else can the program help us with?
Many businesses find they have times where they clean out their records room or a warehouse. The RecyclABILITY team is happy to help. We consider these opportunities purges and can offer regular customers a discounted rate to get rid of these extra documents. We also try to schedule those extra jobs on your regular service days if that's more convenient for your business.
What if I need record that I destroyed the documents?
We provide a certificate of destruction at the end of each service appointment for your files.
How do I pay for the service?
You can pay on-site with one of our drivers each time we shred on site at your business or home, or you can be billed.
Still have questions? You can reach us at 205-423-6234 or recyclability@arcofcentralalabama.org.
Request A Quote
Get a Quote
RecyclABILITY is a dependable and affordable way to shred your confidential documents and other paper. Hire us today to shred your confidential information within the Metro Birmingham area and Blount County. Fill out the form below, and we'll be in touch with a quote soon!
Community Shred Events
Next Community Shred Event
First Baptist Church Of Alabaster
903 3rd Avenue NW, Alabaster, AL 35007
Saturday October 3, 2020 from 8am-10am
Sponsored by Keller Williams Realty Metro South
Ashlee Springer McLaughlin, Realtor
Pay Your Bill
Pay Your Bill
To pay your bill online, simply fill out the short form below and click the Submit button to complete your payment at PayPal. If you have any questions, please email us!