Day Programs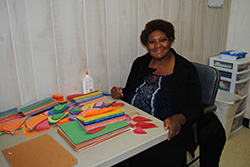 The Arc provides community-based educational and adaptive daily living skills training, as well as instruction in academics, socialization, communication, personal care, and hygiene for adults with intellectual disabilities.
These services are provided in six locations:
Crestwood
Alice Pigman Center (Homewood)
Arc-North (Tarrant)
Tom Leonard Center (Hoover)
Blount County Day Program (Oneonta)
Cleveland Training Center.
We served a total of 274 adults in the day programs in Jefferson and Blount counties last year.
The Arc's Day Program for Adults also benefits families affected by intellectual disability. Many parents and siblings who care for their loved one with an intellectual disability tell us it's a chance for them to return to work or handle other responsibilities, while their family member attends an Arc day program. Ages of participants in the day program vary, from adults in their 20s to adults in their 60s.
---
GrowABLE Garden 
The Arc of Central Alabama has started a brand new project this year! The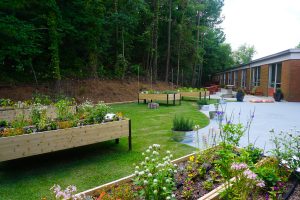 GrowABLE Garden is a disability-friendly space created to teach program participants about the world of environmental stewardship, collective responsibility, and healthier food alternatives.
Because of your support, the garden is open and thriving, and we didn't want you to miss it! Arc day program participants have already experienced so much joy and satisfaction, and we know it will continue to impact lives for years to come.
Thank you for making this project grow into a reality.
---
Erin's Story:
"When Erin's enthused about something, her hands fly up in the air. And Erin is often enthused. She lives in one of our homes and participates in one of The Arc's Day Programs, where she practices her sorting and counting skills as part of her pre-vo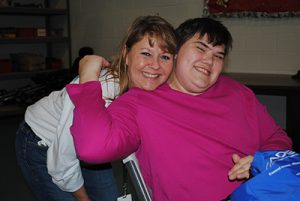 cational training. Good-natured and friendly, she loves to go to the mall and movies with staff and friends. She enjoys going to church with her house staff manager, where she is welcomed with open arms by the other church members. She recently cut her long, dark hair to donate to Locks of Love and is proud it will be made into a wig for someone who has lost their hair due to cancer treatments."
To read more stories like Erin's, visit our Featured Stories section.