Residential Services
The Arc offers four types of living arrangements to meet the needs of our residents: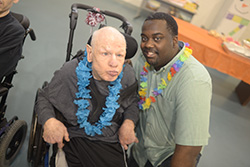 Large group homes for geriatric residents
3-bed supervised community living
Semi-independent living homes
Independent living residences
Residents are trained in areas that include personal care and hygiene, leisure-time planning, money management, and housekeeping skills.  We employ house staff members who are exceptionally patient and caring.  They strive to create a comfortable home environment at each residence, prepare nutritious meals and snacks, oversee the shared housekeeping, and plan outings for the residents.
Last year we served 258 adult and adolescent residents twenty-four hours a day, seven days a week.
Children/Adolescents Residential Program
Our new Children/Adolescents Residential Program began upon request of the Department of Mental Health and is expected to grow significantly.  This Medicaid-mandated program serves intellectually and developmentally disabled children and teenagers whose extensive needs cannot be met by their families or foster families.  The Children/Adolescents Residential Program is tailored to meet the distinctive needs of these children and teens and is headed by a former special education teacher.
From the perspective of William Wren, parent and former Arc of Jefferson County Board member:
"I don't know what we'd do without The Arc. Our daughter needs 24-hour care, help counting money, assistance riding the bus, reminders to groom herself. She's participated in The Arc's Day and Residential programs for almost 20 years, and visits with us on the weekends.  But she's much calmer when she's at her home with her housemates and the staff and their routines. My wife and I are in our sixties now, and it gives us incredible peace of mind to know that our daughter will be safely and kindly cared for by The Arc for the rest of her life."

To read more perspectives like Mr. Wren's, visit our Featured Stories section.