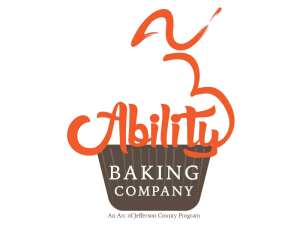 The Ability Baking Company (ABC) is a Birmingham-based bakery and food truck serving baked goods and pastries for a great purpose.
Thanks to the former tenants of our Crestwood campus, the building is equipped with a full-scale commercial kitchen. Through grant funding from Alagasco (now Spire) and The Daniel Foundation, the kitchen was dedicated in 2015 to teach baking classes and train individuals with intellectual and developmental disabilities (IDD) for employment in the food service industry. The kitchen hosts classes daily for individuals who participate in Employment Support and Day Program.
Time spent in the kitchen has proven to be productive, hands-on training for many individuals who seek competitive employment. Participants learn skills such as: effectively communicating with coworkers and customers, measuring specific amounts, hand-washing and sanitation protocols, counting money, and, of course, cooking. 
In 2018, ABC was able to purchase a food truck with funding from The Alabama Council on Developmental Disabilities to sell its sweet treats at local farmer's markets, fairs, and other community events. Working in the community further builds connections with peers and helps to change the perceptions of people with disabilities. ABC is a supportive learning environment that teaches skills that will carry them far into the future. This innovative program is the only one of its kind in Alabama and has greatly advanced integrated employment opportunities for individuals with IDD in our community. Follow along on Facebook and Instagram for locations, recipes, videos, and current menu! 
To request the ABC food truck at your event, send us a direct message on any one of our social media accounts or email development@arcofcentralalabama.org.
Many thanks to the organizations and foundations made this project possible: